Team USA Takes Top Four in Mixed Team Sprint on Final Day of Track Cycling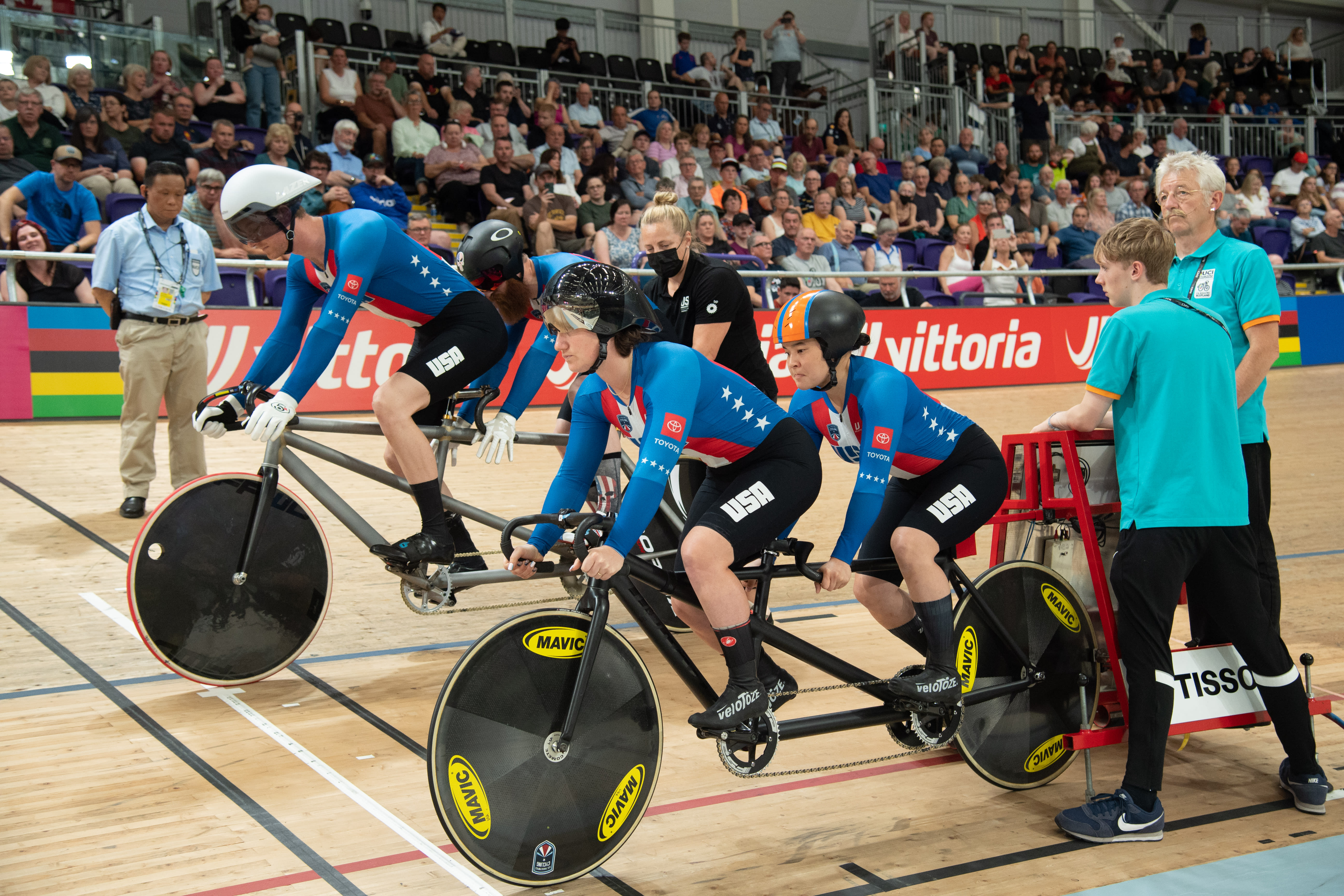 GLASGOW, SCOTLAND – Seven U.S. athletes were prepped for their final day of racing at the 2023 UCI Para-cycling World Championships as Para track cycling concluded with a world's top four and sixth place finish at the Sir Chris Hoy Velodrome. The two American tandem teams joined forces for the Mixed B Team Sprint recording a fourth-place finish just shy of the podium.
2023 world championship bronze medalists Hannah Chadwick (El Cerrito, California) and pilot Skyler Espinoza (Freeport, Maine) worked seamlessly alongside teammates Michael Stephens (Colorado Springs, Colorado) and pilot Joe Christiansen (Lyons, Colorado) for the first team sprint as a foursome.
"In the qualifiers we were down two tenths of a second so [our strategy] was to time the run a little bit better," said Christiansen. "We executed that perfectly and timed it well. We started as a team and finished as a team we just weren't quite there tonight. We're a little bit disappointed but this is our first team sprint together and all things considered I think we executed really well."
"We are ready to go home to continue our training plans and prepare for whatever competition does come our way next," said Stephens. "Also I'm so excited to be here around [Chris] Murphy for his last race. We've been training together for the last four years side by side in Colorado Springs so to be here on his final event is incredibly special."
For Chadwick, leaving the world championships with a bronze and top four finish was on her brain since her first experience on the world stage in 2022.
"We gave it our all tonight and it gives us something to work towards for next year," said Chadwick. "It feels so good to go home with a medal. I remember last year saying that I was make it on the podium and overall, I'm just really happy that the hard work paid off here."
Even though they've welcomed newfound sprint success, Espinoza spoke to additional race goals ahead of the 2024 Paralympic Games.
"The kilo time trial is the Paralympic event so that's still going to be the focus for us," she said. "We're definitely still doing the match and team sprints as that's a growth area for us, and all racing is good experience."
The Mixed C Team Sprint athletes - consisting of Paralympians Joe Berenyi (Aurora, Illinois) and Chris Murphy (Rancho Cucamonga, California) alongside 2024 Paralympic hopeful Katie Walker (Wilmington, Ohio) - ended their journeys in Glasgow with a top six finish in the morning's qualification round.
It was an extra special day for Murphy who announced his retirement from competitive Para-cycling. A decade in the sport, Murphy ends his career with two Paralympic Games appearances and nine world championship medals - two gold, three silver and four bronze – on his list of accolades. The California native has been a staple of the program since being invited to a talent identification camp and making his first U.S. Paralympics Cycling National Team in 2014.
"I'm happy with my career, said Murphy. "To be here at this competition to end it with all these people, it feels like I finished a good book. [Looking back] I would never have believed all the great experiences I was going to have and would tell myself to keep sticking with it when it gets hard because it will get hard."
"It was special to end on the team sprint as it's always been one of my favorite races to do," he continued. "It's different racing with a team and we don't do that very often so just to get to end it with the team spirit was awesome."
Team USA ends the first half of its stint in Scotland with six podium appearances including two silver and four bronze medals. Four U.S. Para cyclists will continue their world championship quest and join the other 18 American riders as the Para-cycling road competition which begins Wednesday, Aug. 9. For live updates and results, follow U.S. Paralympics Cycling on Facebook, Instagram and Twitter.
For media requests and photo inquiries, please contact Annemarie Blanco at Annemarie.Blanco@usopc.org.