News
Brandon Lyons
Alicia Dana
Travis Gaertner
Dana, Gaertner and Lyons Secure Bronze in Grand Relay Finale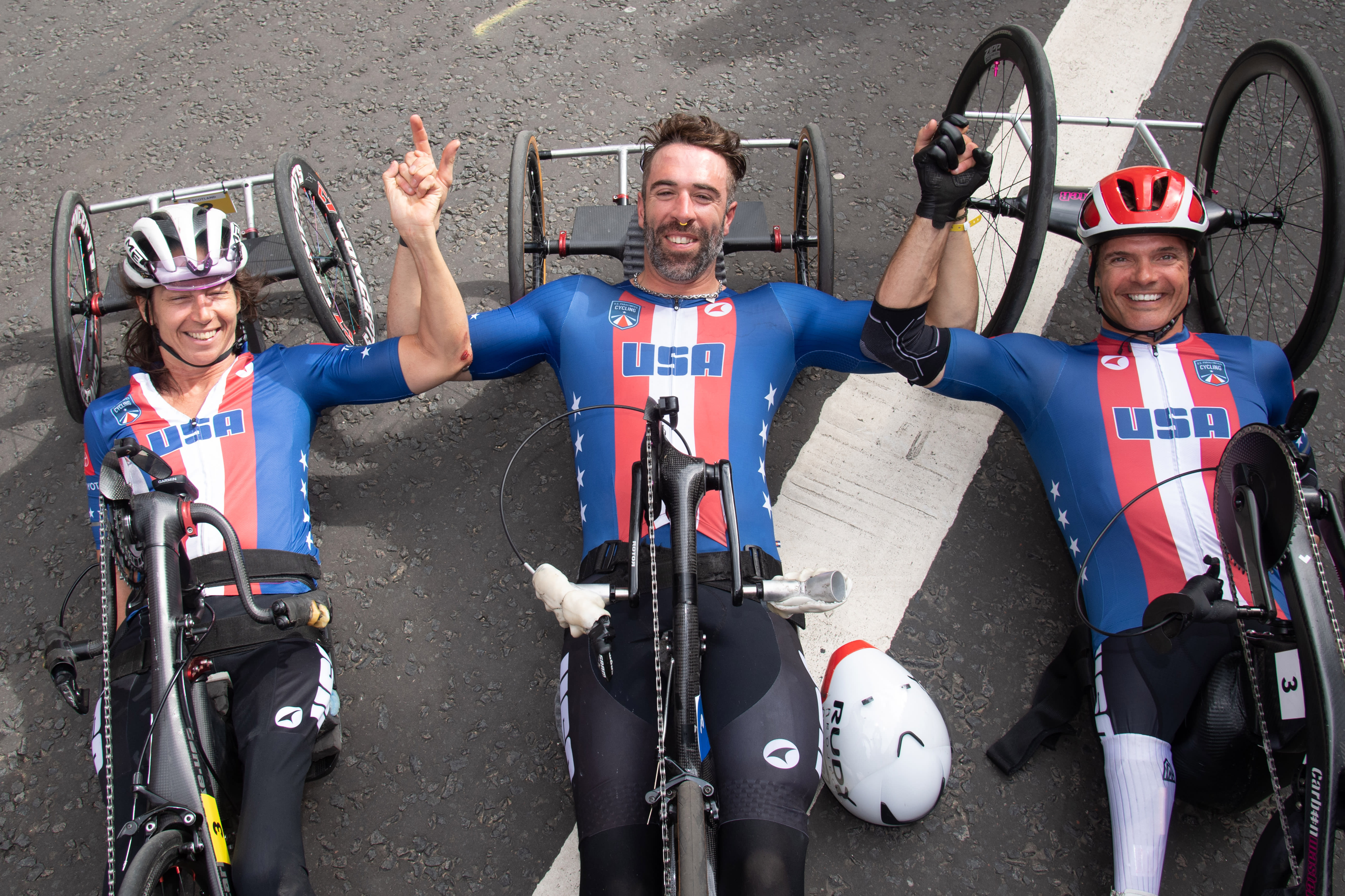 GLASGOW, SCOTLAND – In a thrilling finish on the streets of a busy George Square, Team USA's mixed team relay consisting of three-time Paralympian Alicia Dana (Putney, Vermont), two-time Paralympian Travis Gaertner (Burien, Washington) and Paralympic hopeful Brandon Lyons (Mechanicsburg, Pennsylvania) wowed fans with a third-place finish in the mixed team relay. The event marks the end of a historic first ever combined UCI World Championships across 12 days of competition and 13 able-bodied and Paralympic disciplines. The terrific trio has a history of snagging a podium space in the team relay including the 2019 world championships.
"We knew we had a good chance of getting on the podium," said Gaertner. "We knew we needed to execute perfectly on every single lap and then give it everything we had at the last lap. We each had a role to play, and we each filled that role perfectly to a tee. It just came together and without that we wouldn't be here."
"I was super excited to be team members with these guys," continued Lyons. "We started back in 2019 together and we've definitely had the luck. We come through very strong together, so it was nice to be able ride with them again."
The success gives the team an extra boost of confidence with a little over one year left until the Paralympic Games Paris 2024.
"I feel great every time I race with this group," said Dana. "I feel like we meld really well together as a team, and we seem to have some good luck that follows us. I hope that keeps going all the way through to Paris."
Team USA heads home from the 2023 UCI Para-cycling World Championships with 14 total medals including four golds, three silvers and seven bronze across the track and road disciplines. U.S. cyclists will enjoy a few months rest before concluding the season at the upcoming Parapan American Games this November in Santiago, Chile. Follow U.S. Paralympics Cycling on Facebook, Instagram and Twitter.
For media requests and photo inquiries, please contact Annemarie Blanco at Annemarie.Blanco@usopc.org.