Connors, Masters Strike Gold on First Day of Road Races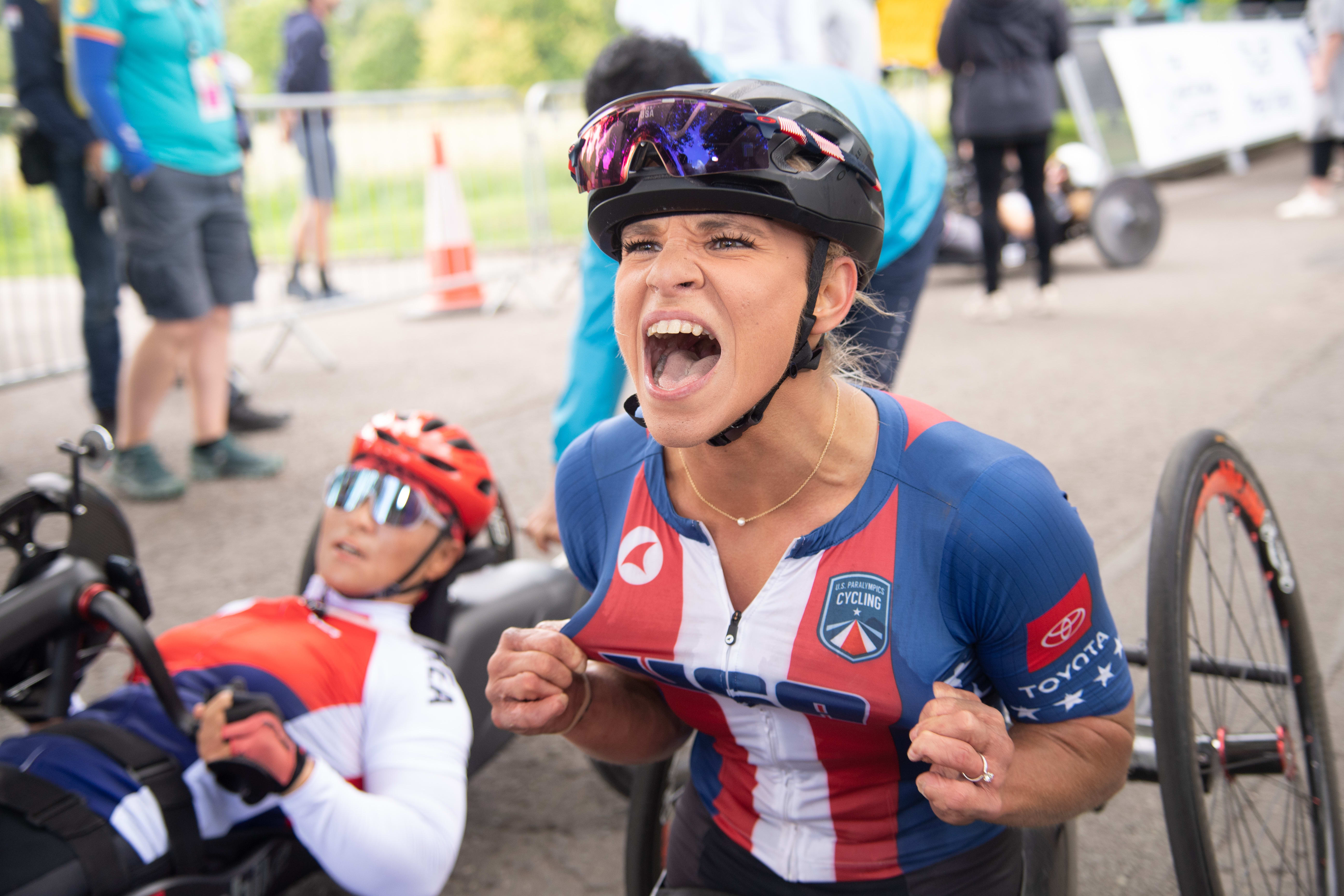 DUMFRIES, SCOTLAND – It was a golden day for Team USA as Dennis Connors (Beaverton, Oregon) and 17-time Paralympic champion Oksana Masters (Louisville, Kentucky) became 2023 world champions on the first day of road race events at the 2023 UCI Para-cycling World Championships. For both riders, the day felt like a moment of redemption after less-than-ideal situations in Wednesday's time trial competition which left both favorites off the podium.
Connors picked up his first career MT2 world title to cap off a successful season on the world cup circuit where he won five medals in six races. The Oregon native is the sole tricyclist on the American world championships team and now holds two world championship medals in his collection.
"It feels incredible," said Connors. "I woke up this morning not feeling super-hot, so I dropped my expectations. Three kilometers out they dropped me, and I thought I was out of the race. I got a lucky break, got in and executed my sprint how I wanted it."
After picking up her first two cycling championship titles last year, Masters' was a favorite for repeat gold in Scotland. The six-time Paralympian was determined for a comeback after an unfortunate flat tire in the time trial caused her to be just shy of the podium. The WH5 race came down to a photo finish against her Dutch and German rivals. The gold marks her sixth worlds medal in Para-cycling and 25th career world championship podium between summer and winter sport.
"It's just straight disbelief," said Masters. "I doubted myself so much and did not believe this was possible at all. The last 150m, all I did was blackout and let my body do everything. I just thought of everything that went wrong leading up to here and this is for the entire team behind me that believed in me when I didn't think it was possible. Repeat world champion in cycling!"
In his world championship debut, Barry Wilcox (West Jordan, Utah) picked up his first career medal with a bronze in the men's H1 road race. Wilcox has enjoyed a breakout performance this season including double world cup medals to solidify his nomination to the worlds team.
"It's phenomenal, breathtaking and surprising," said Wilcox. "To be here with a bronze medal after not even qualifying for the world championship team last year. This has been my breakout year and it's Scotland of all places."
Recent 2023 silver medalist Ryan Pinney (Phoenix, Arizona), Freddie De Los Santos (Hopewell Junction, New York) and Cody Wills (Harrisburg, Pennsylvania) each took fourth place finishes in their H3, H5 and H2 road races respectively. Paralympian Travis Gaertner (Burien, Washington) snagged a seventh-place finish in the H4 while Alicia Dana (Putney, Vermont) and Jenna Rollman (Rancho Cucamonga, California) battled in the women's H3 road race to grab fifth and eleventh place finishes respectively. H3 cyclists Brandon Lyons (St. Augustine, Florida) and Owen Daniels (Fontana, California) rounded out the United States' day of competitors with 14th and 18th place finishes.
Team USA returns for the penultimate day of competition with road races in the men's and women's C1-5 classifications. For live updates and results, follow U.S. Paralympics Cycling on Facebook, Instagram and Twitter.
For media requests and photo inquiries, please contact Annemarie Blanco at Annemarie.Blanco@usopc.org.