News
Samantha Bosco
Aaron Keith
Bosco Smashes Time Trial for First U.S. 2023 Gold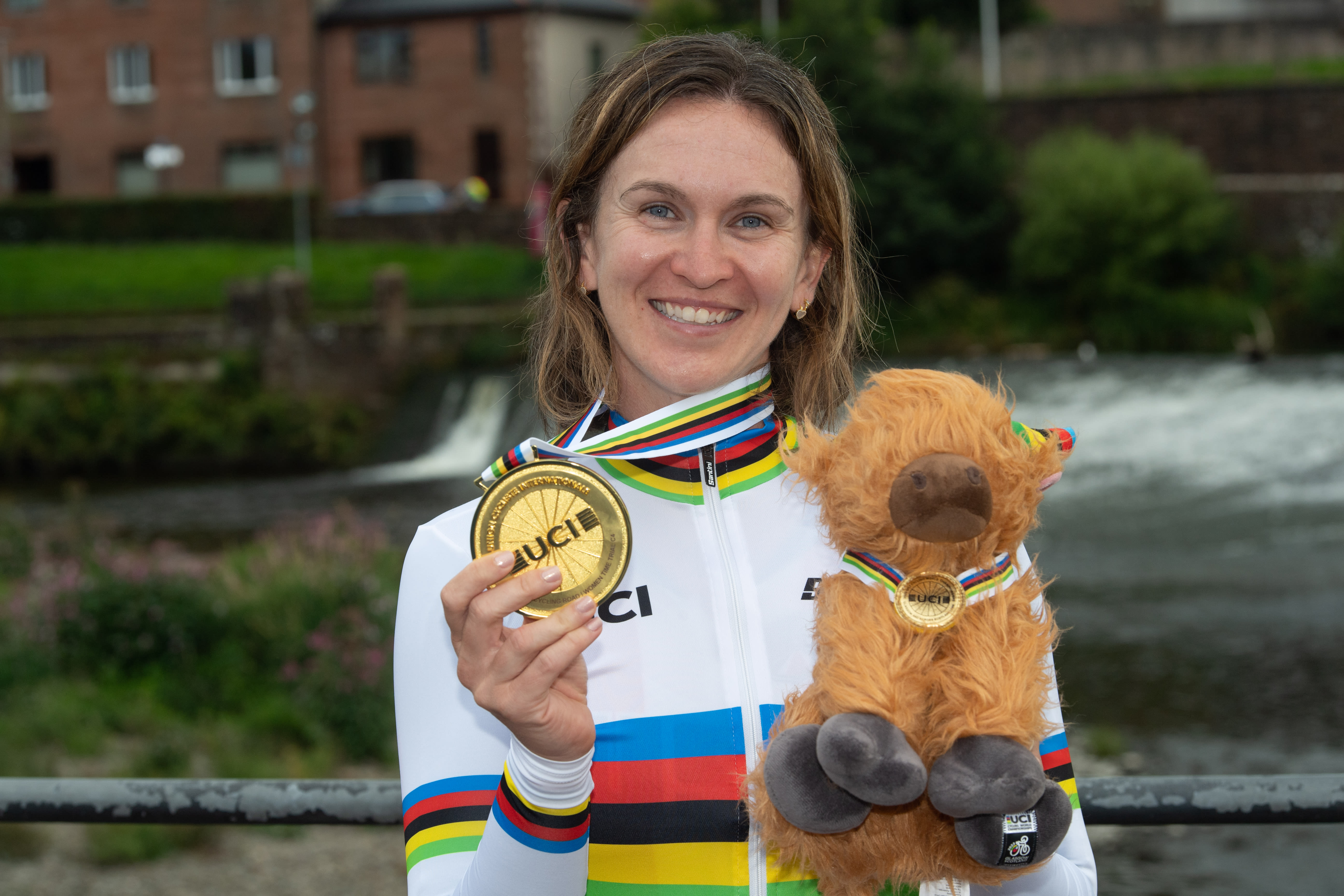 DUMFRIES, SCOTLAND – Nearly one minute ahead of the silver medalist, reigning C4 time trial world champion Samantha Bosco (Claremont, California) accomplished her mission of winning gold taking the Americans first rainbow jersey in Scotland at the 2023 UCI Para-cycling World Championships. Bosco comes off a stellar performance at the track portion of the championships after winning one silver and two bronze medals – the most by any American competitor this year.
"I wanted to repeat last year and execute a race as I had a vision in my head and that's what I did today," said Bosco. "I'm on cloud nine. I worked really hard to stay where I'm at and to keep improving upon my past performances. In a way I manifested it, but I also worked by butt off to keep progressing and truly see what I'm capable of."
Joining Bosco on the podium was Paralympic silver medalist Aaron Keith (Woodinville, Washington) who added a bronze in the MC1 class, his fourth career podium in the road time trial and second at the 2023 championships. For Keith, the bronze was a happy win after a crash in the track's scratch race left him unsure of his ability to be back at full form quickly. Both Keith and Bosco will return for their final events in Saturday's road races.
"Today was pretty rough getting ready for the TT," said Keith. "I was definitely feeling sore from the track crash I had a few days ago, but this is race day and I had to put that behind me to just show up. I'm really happy that I was able to get a medal today."
Paralympian Shawn Morelli (Meadville, Pennsylvania) snagged a sixth-place finish in the women's C4 time trial while fellow C4 rider John Terrell (Converse, Texas) took at top ten placement.
"The road to Paris starts today," said Terrell. "To start last year and have a breakout season in 2022 was amazing but 2023 has been tough. All things considered, 2024 has to be it so I'm looking forward to getting the most out of myself and hopefully inspiring other people along the way. It's so special [to be a part of worlds], just to have the excitement of all the disciplines was so good."
In her second world championship team since being back from retirement, Paralympic medalist Allison Jones (Colorado Springs, Colorado) impressed with a fourth-place finish in the women's C2 individual time trial. It was a near podium finish for Jamie Whitmore (Somerset, California) in the WC3 time trial while Paralympic hopeful Elizabeth Mis (Medina, Ohio) grabbed a top nine in the women's C5 class.
With three days left of competition, Team USA's tricycle riders and hand cyclists will return to the course for the first day of the road races. For live updates and results, follow U.S. Paralympics Cycling on Facebook, Instagram and Twitter.
For media requests and photo inquiries, please contact Annemarie Blanco at Annemarie.Blanco@usopc.org.